Relocation a business is a major logistic operation with enormous number of requirement to be considered. Good forward planning with expert advice from relocation professional  will ensure smooth and effective transition to the new base or operation, with minimum disruption to an organization's workflow.
MAGNA MOVERS ensures close co-ordination and communication with it's customer from the initial pre-planning stages to the completion of the move; thus help minimize the possibility of delay, damages or misplaced items.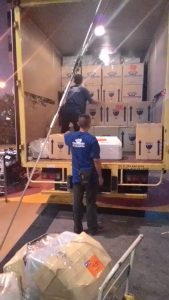 Our scope of work encompasses the following:

Supervision and co-ordination with client and movers during actual relocation.

Marking/coding via colors coding identification system

Supply for packing material for office documents.

Supply for manpower for moving

Supply for transport, tools and equipment

Moving of computers, other IT equipment, typewriters and sensitive equipment.

Moving machines and plant as well as factory equipment of any sizes.

Building protection in affected access.

Carpentry, electrical, steel and construction works (if required)

Unpacking of goods from cartons.

Co-ordinate packing arrangements/requirements (including arranging necessary permission from local council municipality).

Transit or Marine-Open Cover Insurance (If required)

Disposal of used cartons.